Clancy here, your humble Patron of the Arfs. Shayna and I are delighted to introduce our newest Gallery Giclées artist, Elise Ondak!
We both love her. Not only is she a talented artist, she is also a dog lover with two rescue dogs. (She has also rescued several cats, but we try not to hold that against her.)
Elise has been drawing and painting since childhood. While still in high school, she met and was mentored by artist Stanka Kordic. Encouraged by Kordic and her instructors to pursue her dream of a career in fine art, Elise went on to attend the Cleveland Institute of Art and has been painting ever since.
Her first Gallery Giclées release, The Path, captures the allure of the ocean.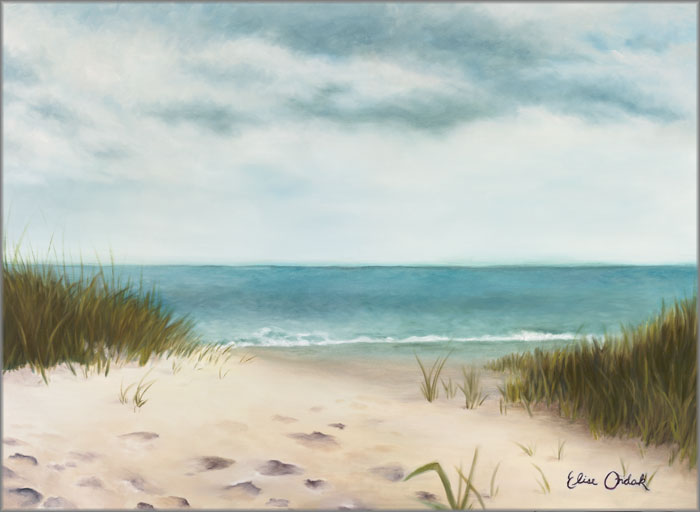 hand-signed by the artist
Original oil on canvas, hand-signed by the artist
Elise told us: "When I was painting The Path, I wished to represent not only a specific place and memory but the journeys each of us must travel throughout our lives. Standing on a path of sand, marked by the ever-fading footprints of those who traveled before us, we peer through the softly waving grasses to the inviting waters below. Although the destination is in sight, we must still walk the path to reach it."
Everyone sees something different when they contemplate
The Path
. Whether it recalls
a memory or issues an invitation is up to the individual.
As for me, I can picture myself chasing a Frisbee in the waves, and then shaking salt water all over Shayna.
Shayna, as always, has a different take: "The Path hypnotically draws you into its solitude, exuding a sense of peace. Alone with your thoughts, the rhythmic waves soothe the spirit. Clouds hint at storms to come, but the timeless ocean endures."
Available in two sizes, The Path is the first in a series of mesmerizing seascapes by this artist. We'll be bringing you additional images by Elise in the coming months. In the meantime, we invite you to stop into Gallery One to see The Path close up for yourself. (And if you imagine ocean breezes and the scent of salt water, don't be surprised!)
(Your Patrons of the Arfs)